2013 - The 100th Edition
2014 represented the beginning of a new century of history for the Quebec International Bonspiel and the curlers' arrival at the Chateau Frontenac coincided with the opening of newly renovated sections of the hotel. Many of these new areas were first used by the QIB to host receptions and other official events.
To recognize the historic moment, and making a tongue-in-cheek reference to a long-gone era when curling stones were actually thrown in the Chateau Frontenac, the General Director of the hotel, Mr. Robert Mercure, threw a non-official opening stone in the hallway outside QIB Headquarters!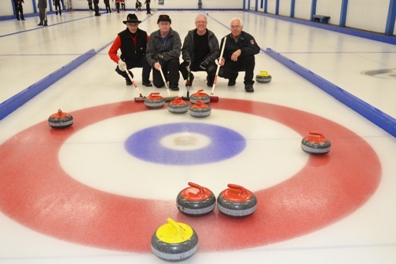 Through 100 years of curling, there have been many milestones achieved and recognised. The 101st edition of the QIB witnessed its second 8-ender in our history! Congratulations are due to:
Don Chabot, Drew Symonds, Don Meyer et Ron Schwartz of the Walkerton Welland team.
Special mention should also be made to the Turtles who witnessed the occasion from the same sheet!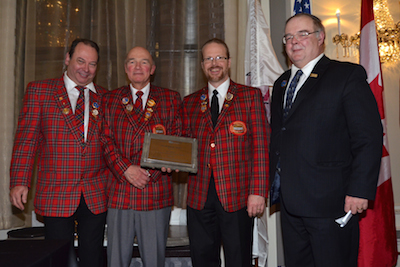 Curling Quebec a awarded an Honourable Mention for the excellence of the 2013 Centennial edition of the Quebec International Bonspiel.

Mr. François Vary, member of the board of directors of Curling Quebec, is seen here presenting the commemortive plaque to Michel Fortin, CEO and Bruno Letarte and Derek White, Co-Presidents.